Hello and happy Top Ten Tuesday, guys! Can I just say that I absolutely love this week's topic — just so many possibilities! I've been a huge reader ever since I learned to read, and you bet there are lots of things I want to do after reading about them in books. Here we go. 🙂
1) Travel to an alternate universe.
I would love to be able to travel to another universe and see what alternate!Reg is doing there. The way I see it, it'd be interesting to see how different my life would turn out if I had made other decisions back at those crossroad moments in my life. 😛
READ: A Darker Shade of Magic by V. E. Schwab. I know that my idea of parallel universes is a bit different from what Schwab has envisioned, but… Kell's coat, anyone?
2) Have a pen-pal relationship with a complete stranger.
See, this is the kind of thing that I would really enjoy to do in theory but probably not so much in practice — mostly because I'm too lazy to actually, physically write letters, haha. Still, though, I think the idea is kind of romantic, especially when it results in a connection that ~changes your whole life~… though I suspect that only happens in fiction.
READ: Dash and Lily's Book of Dares by Rachel Cohn and David Levithan. Dash and Lily met kind of by accident — Dash found a note that Lily left in The Strand, which is the biggest bookstore in NYC, if I remember correctly.
3) Be a super great cook.
I think I do OK when it comes to cooking but I'm definitely not a natural, and I also cook largely out of necessity rather than for pleasure. I would love to be able to cook really great meals without looking at recipes, and intuitively know what ingredients go well with ingredients.
Unfortunately, my tastebuds are VERY insensitive and I can't even tell high quality ingredients (i.e. certified organic, grass-fed beef) from low quality ingredients (i.e. normal beef) — which is actually, in a way, fortunate because I can freely choose cheaper stuff at the groceries without having it impact flavour. Win-lose, I guess. 
READ: Nuts by Alice Clayton. The meals that Roxie, our protagonist, makes sound super amazing and drool-inducing, and the whole book is filled with food puns and innuendos!
4) Attend a fan convention.
As a person, I'm really kind of geeky but I've never actually been outwardly geeky — I don't buy fan merchandise, I'm not interested in figurines or posters, I don't wear or own fan t-shirts, I don't want to cosplay, and I've never really attended any kind of fan convention whatsoever.
I wouldn't know now what convention to go to since I'm not crazily following any TV series or something, but I think I'd like to go at least once in my life, just for the experience!
READ: How to Repair a Mechanical Heart by J. C. Lillis. The whole book is kind of centred on a fan convention that our fictional characters to go vlog about. 🙂
5) Live like the crazy, throw-money-down-the-literal-drain rich.
Okay, okay, this is kind of a pipe dream and I don't know if I'd actually like being crazy rich — I think it'd personally give me a warped worldview, and I kind of like the one I have now — but I sure wouldn't mind spending a week as a Really Really Rich Person… hopefully while they're on vacation. In Paris. 😛
READ: Crazy Rich Asians by Kevin Kwan. The things that these titular crazy rich Asians do and think are really wacky. You can also watch Ultra Rich Asian Girls, a reality TV show following exactly these people, to get a glimpse of what it's like.
6) Enter an RPG game and play as myself.
If I really want anything on this list to come true, I think this one would be it. I've been an MMORPG gamer since I was like, ten, maybe, and I've dreamed and dreamed and dreamed of one day 'entering' a game. I would LOVE to actually be slaying a (digital) monster, shooting an arrow, conjuring a fireball… thank goodness that the recent invention of the Oculus Rift made this a bit closer to possible, so I'M GIDDY WITH EXCITEMENT.
READ: Ready Player One by Ernest Cline, or The Leveller by Julia Durango. The latter is a bit closer to what I'm thinking, but the former is a better book. 😛
7) Test the 'car wash music' theory.
There's this scene in Just Listen by Sarah Dessen where Owen and Annabel drive to a car wash just to listen to some music. Basically, Owen surprises Annabel by picking her up and forcing her to listen to some atrocious music, to which she insists that everything sounds good in a car wash, and then they go there to test the theory. I think it's romantic, but not cheesy, you know? ❤
READ: Well, what else but the book itself? The scene I'm talking about is in Chapter 12, so look out for that.
8) Have a consistent life-long group of friends.
I feel like characters always have that group of besties they hang out with, especially protagonists in contemporary YA novels! That hasn't been realistic in my experience; I've got a few girlfriends I talk to a lot and would consider my best friends, but I don't really have a group — it's really more like a chain… or like a solar system of some sort, where every person is their own sun.
Also, I kind of found that friends tend to fleet in and out of my life. Some people I'm close with have been there from the start, but some of my teenage best friends I don't really talk to anymore, while I have made others from uni and from work. It's nice to think that life-long, never-changing groups of friends exist, but I haven't found that to be the case for me.
READ: Pretty Little Liars by Sara Shepard. Okay, okay, this is SO not a healthy model for friendships, but they are a group of friends.
9) Go on a road trip with a boy.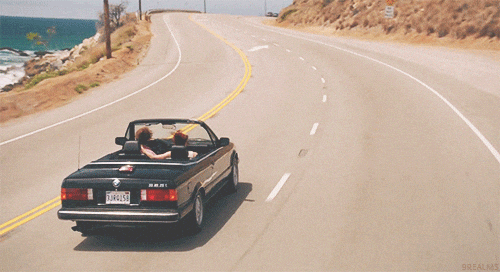 I'm pretty sure this is something that my boyfriend and I will eventually do because we both love road trips (well, he loves driving, and I love sitting down and singing at the top of my lungs to the radio), but I've always wondered what it'll be like to go on a road trip with someone you just have a crush on (and who has a crush on you!). That giddy feeling when you kind of suspect that maybe, just maybe, your feelings are reciprocated is rivalled by no other. 😛
READ: Amy and Roger's Epic Detour by Morgan Matson! I actually haven't read this yet but it's kind of where I got the idea from. And this is not a book, but Harry and Sally in the classic best-friends-turned-lovers movie When Harry Met Sally also went on a road trip.
10) Work with animals.
When I was ten, my dream job was to be a vet. I would read books on animal training as well as animal health. Unfortunately it just ended up not happening, mostly because I got distracted during middle school and decided to pursue other things instead. Sometimes, though, I still think about what if — not in that 'omg I regret my life now' kind of way but more in a 'hmm, wonder what that'd be like?' kind of way.
READ: The Unexpected Everything, also by Morgan Matson. Andie, the protagonist, gets a summer job walking dogs. ❤
What's on your TTT this week? Leave me a link or let me know in the comments!